The "Me" Within "We": Soliciting Stories
Last June, my editor's response to Draft #2 arrived on our doorstep just as we were preparing to head north. If there can be a good time or place to face the fact that your book needs major revisions, I found mine in the Nerka's pilot seat, alone on my wheel watches while Joel slept, the promise of Alaska ahead. My manuscript was heavy in my lap as, removed from the world within this pocket of suspended time, I read it from beginning to end. All 323 pages, many of the margins dark with penciled edits. Then I read it again. Comments that stung the first time through merited contemplation on the second. By the third read, I agreed with most of them.
When we arrived in Sitka, I reunited with my friend Mary. She, like too many people in my transient life, is someone I'd like to share more time with. I suspect we'd uncover much common ground, given the opportunity, but abbreviated shore leave has limited us to Facebook exchanges and parking lot huddles. And to this moment, two women stepping out of a cluster of male captains to nurture a seasonal connection on a bustling dock.
She asked how my book was going. I told her what I'd just realized, seeing through my editor's eyes: I'd lost my hold on the story.
"I wandered over here," I flapped my right hand toward the breakwater, "into issues of sex and monogamy and fidelity. But that wasn't the core narrative.
"It's here," palms together, heart-center, "in the tension of being together and separate. The struggle to maintain your identity as a strong, independent person, while in partnership with someone else. Being dependent on each other while staying true to the person you want to be, all within the confines of a boat. What that looks like."
Bobbing her head, Mary's eyes grew shiny. "Yes, yes – oh my god, yes!"
That affirmative response was a gift. She was the first person I shared this renewed direction with, and her enthusiasm helped me trust I was on the right track. That I could wrestle the narrative back to where it needed to be, and that this tension between self and couple was the point of connection between author and reader. It was the place where my story could become bigger than myself.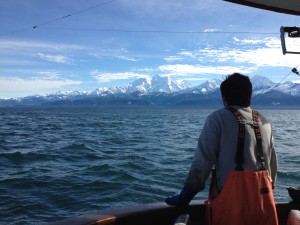 I don't write on the boat. I'm on deck working eighteen, seventeen, fifteen hours a day, for weeks at a time. In the cabin, Joel and I are always within six feet of each other. Our town time is chore-focused, rushing through tasks to get back out as soon as possible. If bad weather grants us an unexpected day off, I just want to sleep. (I am so, so fortunate that Riverhead gets this. In gracious deadlines and tolerance for an author who's incommunicado for months, my editor has demonstrated her value of my fishing life and this book.)
I don't write on the boat, but I do think about writing. My friend Andrea says this counts. She calls this mulling over character development, metaphor, and just-right sentences "composting," and says it's an essential part of the writing process. I agree. I spent a lot of time composting this summer, thinking about that dockside conversation. Surely Mary and I couldn't be alone in our experience of doing work we loved, with the person we loved, knowing the wondrous fortune of our lives – and still nursing a quiet fear that we sacrificed some essential part of our self along the way.
Were there more of us?
I put a card in the mail to a woman I love and respect, someone who was once in the same boat as my friend and me, having gone to sea with her male partner many years earlier. Joni began fishing in the 1960s. I asked how it had been for her, what she recalled of that experience, what it meant to her now.
When her response arrived a month later, I didn't read it. I wanted to wait for a quiet, solitary space, a time when I could give her words my full attention. Space and time: the two things that don't exist on the boat. It was only within the past few days that I finally opened her email. I'm still trying to pick myself up off the floor, so moved by the generosity with which she gave her story.
Joni's story is not mine to share – and yet, her story is mine. You know how the cliché goes: the more things change, the more they stay the same. Together, we span six decades in fishing. I think about how the harbors have changed – more female deckhands, more couples running boats together, more women running their own boats – and then I hear a voice in my head, whispering questions of identity, belonging, invisibility. And I can't tell whether it's Joni's voice speaking, or my own.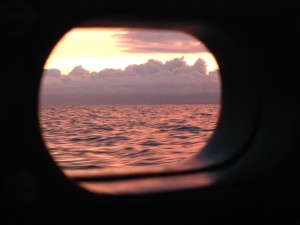 This is why I read and write memoir: because I want to light these places we don't often reveal to each other. Vulnerabilities we mask, doubts we're not supposed to acknowledge. In placing a higher virtue on silence than on trust, we commit to our own alienation. We build our walls higher, failing to see that the experiences that leave us feeling isolated are the very ones with the power to bring us together. I tell my story because I want to know yours.
My hunch is that this issue isn't only a women-on-boats struggle. For many of us, the challenge to preserve some sense of "me" amongst a "we" is simply an effect of growing up as a girl-child in America, socialized from Day One to put ourselves second. So I wonder if this speaks to you, and if it does, how you've navigated the tension between self-identity and partnership. What the rewards and sacrifices have been. If your definitions of "reward" and "sacrifice" have changed over time.
And I wonder, too, what these questions bring up for Hooked's male-identified readers. Many of you originally started following this blog for the fish stories; that you've stayed through meditations on gender and self-identity means a lot to me. You're infused with cultural expectations different from those I grew up with – different; no less powerful. I wonder what you identify as the leading messages of your life, how you internalized them, and how those messages have impacted your life and relationships.
While I searched for the right thought to close this post, yet another inspiring woman from the fleet provided the words I was looking for. Thank you, Erin, for sharing this quote right when I needed to hear it.
"What we hunger for perhaps more than anything else is to be known in our full humanness, and yet that is often just what we also fear more than anything else. It is important to tell at least from time to time the secret of who we truly and fully are . . . because otherwise we run the risk of losing track of who we truly and fully are and little by little come to accept instead the highly edited version which we put forth in hope that the world will find it more acceptable than the real thing. It is important to tell our secrets too because it makes it easier . . . for other people to tell us a secret or two of their own . . . "

— Frederick Buechner (Telling Secrets)
I'm asking big questions at a busy time, friends. Hooked's FINAL final manuscript is due this December. Between revisions and managing all our own fish marketing for the first time, I'm out-of-my-head swamped. Forgive my belated response to the conversation. Trust that I'm reading – I hear you – and I'm grateful to know you. Love and appreciation to all.