The Golden Scrub Brush
One afternoon last August, the Nerka bucked hard into a steep Westerly chop. Struggling to keep my balance while flushing the blood out of a gutted king salmon, I groused under my breath. Only work half the year, watch whales, pretty much just a wildlife cruise… Right. Then an epiphany. National Fisherman publishes an annual "Highliner of the Year" issue, celebrating fisherfolks who've contributed to our industry. What if Hooked recognized stellar deckhands of our fleet?
Delighted by this thought of a new tradition, I got on the radio and asked our partners to help name the award. "The Golden Scrub Brush," one responded. Perfect.
Finding good crew, after all, is a bit like finding Willy Wonka's Golden Ticket. Cap'n J and I are lucky: we're both young/strong/able/stubborn enough to handle everything just the two of us – for now. Other captains go through the same exhaustive search every spring – and for some, even a time or two more before the season's end.
A confession: every June, Joel and I scope out the new crop roaming the harbor. It's become an annual wager between us, pointing out who'll be the gem of the season, and whose sea bag will be dumped on the dock by mid-July. We're usually not too far off.
What separates the gems from the rest? Work ethic, sure. Being observant – seeing what needs doing, and doing it – matched by an equal ability to listen, follow directions, and not presume that they know better than their captain. Being someone that captain wants to live with.
(Another troller described the iron-fist rules he gave his deckhand. "One, I decide who we're coding with. Two, I talk first in the morning. Three, no, you can't take a nap in your raingear in my bunk." The deckhand? His mother.)
The physical demands of our work are teachable. Less so are the core qualities, who a person is at heart, that are so essential. Few of us are prepared to be alone with the unfettered corners of our mind, places we've never visited and don't know are there until all of the usual distractions and buffers have been stripped away by weeks at sea.
A bumper sticker popular among fishermen, commonly slapped on battered trucks and baitsheds, issues the reminder: "Attitude Makes the Difference." This, more than anything, is true. It's why Joel and I immediately agreed on who embodied the inaugural Golden Scrub Brush Award.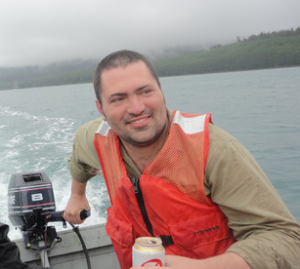 ("Wait," you say. "Isn't that your buddy Mikey, who was just at Fisher Poets with you guys?" Yep. Favoritism? Absolutely. Mike is indeed one of our favorite people in the fleet – and also the person most deserving of Awesome Deckhand recognition.)
Joel and I met Mike Montagne in 2010, when he crewed on one of our partner boats. It was a temporary gig; midway through the season, he was living in a van in the harbor parking lot, waiting to see what opportunities would come next. This worked out well for us: we always needed a third person to help us unload. Mike quickly distinguished himself as reliable, helpful, and fun.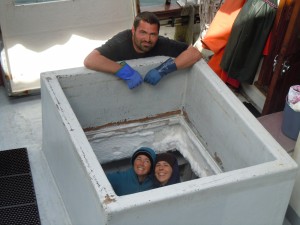 We've passed a lot of fish popsicles through Mike's hands since then. He's crewed for my "brother" Marlin for the past two seasons. A jokester, he's his own favorite target. One frequent self-deprecating line: "This is what you get when you hire someone out of the back of a van!" In truth, what our fleet got from that van is awfully good.
Like when a string of trollers were rafted together one evening last summer, and a deckhand dropped a gaff overboard. The current was strong in that anchorage; we watched the $30 tool drift towards the mouth of the bay, immediately out of reach. "I'll get it!" Mike yelled. Before any of us knew what was happening, he was in his wetsuit, yanking on flippers, and plunging into the water.
To be clear: none of us get in the water voluntarily. (My feeling? Fuck that.) But Mikey's part sea lion. As he says, "Lie around naked in the sun all day, eating fish? Who wouldn't want to do that?" So while the rest of us spent harbor days napping or watching bad movies, he went swimming. I grew accustomed to seeing his dark head pop up amongst otters, seals, and kelp paddies.
The elder captains among us didn't know this. They nearly dropped their Rainiers, sputtering, "What the hell's he doin'?"
Marlin barely glanced over. "It's what he does. I'll fire up and go get him if he gets pulled out too far."
The current didn't pull Mike out too far. He caught up with the drifting tool, grabbed it, and swam back to the boats, handing the gaff up to the relieved deckhand. (Not everyone appreciated the rescue. I was standing with that deckhand's captain, who scowled. "I was kinda looking forward to making the kid pay for that gaff.")
At the dock a few days later, Mike was back in the water, pulling trolling wire out of a new friend's prop.
I've watched him stick a verbal foot in front of bigotry, frequently tripping other deckhands silent with his matter-of-fact reproach, "It's 2012, dude – don't make it weird." He and Joel have long talks about what it means to be men who'll speak out against sexism and sexual violence, working to responsibly wield their privileges.
Back in 1999, I couldn't imagine having allies like these. I thought I had to abandon the commercial fishing world I'd loved as a child, a world that suddenly didn't feel safe or welcoming as a young woman. To see fishermen living these values is a powerful, inspiring affirmation.
Mike brings other affirmation to our work. During a boat party last June, he swept an arm at the surrounding mountains. "We could be anywhere in the world right now, doing anything, but we're here, doing this." Awe filled his voice. And there it was: attitude, making all of the difference.
If the stars align, I'll be longlining with Marlin again this spring, training Mike in the halibut arts. In the past, I've often not been a great deck boss. (For some of the same reasons I've chosen not to parent, including a streak of ugly impatience.) Sometimes it goes better, though – that is, sometimes I go better, and it seems working with Mike would foster that. I hope those stars do align. Like Cap'n J, those are two men I'd be pleased to go to sea with. And while an imaginary award is fun, this truth is really the best recognition: on deck and in life, Mike is the kind of good that encourages everyone around him to be better, too.
Obviously the 2012 salmon season is long past. Time got away from me on this one, as it does on so many posts I'd like to share with you. In this case, the delay worked out: today is Mike's birthday! When better to receive a major award? Please join me in wishing him a happy birthday. For the fishin' folk among you, I'd love to hear your thoughts on what makes a good deckhand. Any preemptive nominations for next season's Golden Scrub Brush?