Signing Off, with an Invitation
Shortly after my return Down South this Sep­tem­ber, I received a let­ter from my friend Sarah. A real, honest-to-goodness let­ter: USPS-ushered from Seat­tle to Belling­ham, turquoise enve­lope double-stamped in honor of its heft. The card was lovely (whale, octo­pus, sea horses and fish min­gling beneath a sail­boat anchored on a calm sea) and bulging with four addi­tional sheets, hand­writ­ten on the bare back­sides of Sarah's suc­cess­fully sub­mit­ted man­u­script. ("For luck.")
Let­ters are one of boat life's best side effects. Removed from the imme­di­acy of the inter­nets, I embrace the inti­macy of old-fashioned cor­re­spon­dence to feel con­nected with the peo­ple I carry with me at sea. Last sum­mer, Sarah was one of those peo­ple. I sent her a card con­grat­u­lat­ing her on her fin­ished man­u­script, and asked if she had any advice for me in my own march toward a dead­line. I want to share her words with you, with grat­i­tude for her permission.
Dar­ling Tele, I can't tell you what a gift it was to find your let­ter in the mail­box the other day! But I'm going to try.

 

Ever since I hit that Aug. 1 dead­line for the book, I've been really really sad about my writ­ing life. It's gone on the back burner again, essen­tially, & there is so much I want to be work­ing on – (an arti­cle, some essays, poetry, SUBMISSIONS), let alone build­ing a plat­form to mar­ket my baby (that ten year old beast of a book project) – but I'm not. 70% of that is the rest of my life crowd­ing back in – things I pushed out of the way (son, hus­band, dogs, home, work $, friends, gar­den, fam­ily) to hit my dead­line, that I dearly love or at least (wait­ress­ing) that I've got no choice but to give hours to. My writ­ing hours shrink & shrink, unless I give up more sleep. Not really an option. Work­ing 4 or 5 nights at the Pub now, & watch­ing other people's kids to earn hours when they'll watch mine.

 

Ugh! Sounds like a lot of whin­ing, & it is… But I honor the fact that it's also my Story right now, & I really do cher­ish all my work… It teaches me what is most impor­tant to write about, when I can.

 

I said 70% of my lack of writ­ing progress is Rest-of-my-Life… & 20% exhaus­tion, & 10% fear & iso­la­tion. Which is where your bril­liant let­ter arrives in my mailbox.

 

I know I am a writer, because I have no choice but to write.

 

I know it is the same for you. That being said –

 

A part of me is always ter­ri­fied to let my words be pub­lic, because I'm ter­ri­fied it's not good enough, clear enough, done enough. It must express what we mean for it to in our hearts, & it so rarely seems (to me) like I succeed.

Which is why I'm a revi­sion junkie.

 

Any­way, your let­ter was a tan­gi­ble piece of evi­dence that I am part of a com­mu­nity of writ­ers, all labor­ing away at their own lives, striv­ing to keep tabs on their muse and their loved ones & their mort­gages, etc.

 

It was a life­line, sweetpea…

a ver­titable buoy on the end of a rope, with you on the other end.

 

& NOW… inspired by your exam­ple, you coura­geous fisher-poet nov­el­ist (what's the word for writer-of-non-fiction-books?), I've just sat down & devoted an hour to writ­ing (despite an array of inter­rup­tions.)!! I took a writ­ing work­shop from David Peter­son (edited Edward Abbey's jour­nals) once at the North Cas­cades Insti­tute (have you been there to write? You would Love it) and he said Ed Abbey always wrote let­ters or post­cards to friends to get him­self into writ­ing mode. And so I have today resolved to write to you this fall & win­ter, Miz Tele, as part of my writ­ing prac­tice & also as an act of sup­port & love for you as you labor toward your May 27 deadline.

 

You ask if i have any advice… not much, mostly just empa­thy. But if I had to give some right now, I'd say…

Labor steadily, just as you would on the Nerka at busy times,

Give your body & mind over to the mus­cle mem­ory of the task at hand.

Hit that groove & the words will come

& Remem­ber to step back quasi-regularly for some fresh air, love­mak­ing, music, food, to nur­ture yourself.

 

xox­oxo

Sarah
I've kept Sarah's let­ter close at hand for the past two months, smil­ing at that cheery turquoise enve­lope every time I sit down at my desk. It's packed away now, one of the many tokens of luck and love that I'll carry with me up to NCI today. The car is stuffed so full that I'm equal parts embar­rassed and curi­ous, won­der­ing how Subi will make it up the steeper bits of the drive. Turns out, prepar­ing for a three month res­i­dency in the moun­tains is very sim­i­lar to prepar­ing for a fish­ing season.
This is how I learned to work: watch­ing my par­ents attack the task at hand with the tenac­ity of pit bulls. (Inel­e­gant, yet accu­rate. The last boat they would build together, a fiber­glass 54-footer, they took from a bare hull to ready-to-fish troller in nine months. Sim­ple enough; that was what needed to be done. They chris­tened the Willie Lee II after an equally goal-oriented friend who, inci­den­tally, raised pit bulls.)
My par­ents' meth­ods got the jobs done, but at a cost. Each com­pleted task was an increas­ingly lonely suc­cess. Sarah's gen­tle reminder to take time to step back, to nur­ture? I'm still learn­ing how to approach work as a bal­anced prac­tice. Edward Abbey might be one of the teachers.
Hooked will be a ghost town this win­ter. NCI has the inter­net, but I've dis­abled my laptop's access and will insti­tute some strict rules about using their library com­put­ers. Old school, hand to pen to paper letter-writing, though? That seems a step towards bal­ance. A way to remind my loved ones and myself we're con­nected – even when we're not. A tool to keep my writ­ing mind work­ing – even when I'm not.
If you'd like to be part of this, here's my res­i­dency address:
Tele Aad­sen


c/o ELC

PO Box 429

Mar­ble­mount, WA 98267
Okay, sweet­ies… In the time it's taken me to write this, the sun has melted all of the night's frost from the trees out­side our kitchen win­dow, and the chick­adees have made a good dent in the suet log. (Joel, will you take care of the feed­ers while I'm gone? I know the squir­rels' greed irri­tates you, but everybody's gotta eat. Thanks, buddy.) It's a two hour drive up to my new home, and I can't delay leav­ing any longer.
Take good care, friends, and be well –
T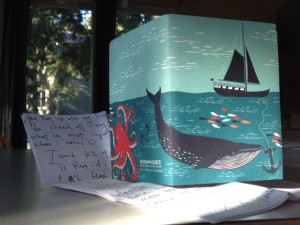 P.S. That lovely woman who sent such gen­er­ous, heart­felt words? Sarah and I have never actu­ally met. These friend­ships we cre­ate out here are pow­er­ful and real. I'm grate­ful to every one of you who's helped teach me that.