Residency Wrap-Up
&

Storytelling Events Ahead

We spend all sum­mer mov­ing through the salmon sea­son, yet Sep­tem­ber always sneaks up on me. It lunges out from where it's been hid­ing, hunched behind the cor­ner of August. I jump every time.

The end of my res­i­dency with the North Cas­cades Insti­tute feels sim­i­larly star­tling. It shouldn't: my Feb­ru­ary 15 move-out has been approach­ing ever since I moved in on Novem­ber 20. This con­clu­sion stirs in me an ambiva­lence sim­i­lar to the fish­ing season's end. Being here has been a tremen­dous priv­i­lege, in terms of the work I've been able to accom­plish and the gift of being wel­comed into the NCI com­mu­nity. I'll miss this beau­ti­ful place and its people.

Good­byes are part of my sea­sonal life. The joy of return­ing to one com­mu­nity tem­pers the pain of leav­ing another. I've missed Cap'n J and Bear the Boat Cat, and am look­ing for­ward to excit­ing events (a whole list of them below). Regard­less of my many migra­tions, I'm still learn­ing how to put the gifts of an expe­ri­ence above the griev­ing of its end. Say­ing good­bye to the ELC staff and stu­dents will be another lesson.

The cel­e­bra­tions ahead will help. After months of moun­tain seclu­sion, I'm plung­ing back into social­iza­tion, with a full cal­en­dar of read­ings. If you're in the area, know that you're invited. I'd love to see you.

Read­ing / Res­i­dency Reflec­tion. Envi­ron­men­tal Learn­ing Cen­ter, North Cas­cades Insti­tute, Thurs­day, Feb­ru­ary 6, at 1:15 in the din­ing hall. If you'd like to join us for a fab­u­lous $5 lunch at noon, please do let me know in the com­ments by Mon­day, as a menu plan­ning cour­tesy to the chef. (And the chef? Remem­ber our dear friend Betsy? Lucky you, get­ting a Betsy meal!)

And then? Fish­er­Po­ets! Fish­er­Po­ets! Fish­er­Po­ets!

It's quite an extrav­a­ganza this year, friends. We've got a pre-Gathering warm-up in Port­land. I'll be one of many per­form­ers at the Jack Lon­don Bar, Wednes­day, Feb­ru­ary 19, 7 to 10 pm, $5 cover. This line-up makes me swoon: Moe Bow­stern, Toby Sul­li­van, Pat Dixon, Bil­lie Delaney, Steve Schoon­maker, Rob Seitz — plus Joel Brady-Power in his debut per­for­mance! (After two years' dip­ping his toes in the on-site poetry con­test, he's mak­ing it offi­cial this year.) I'm all a-flutter over this night.

Fish­er­Po­ets Gath­er­ing is Feb­ru­ary 20 — 23, in Asto­ria, Ore­gon. The sched­ule is almost ready… but not quite. Keep a close eye on the web­site, and fol­low the Fish­er­Po­ets page on Face­book for the lat­est updates. Remem­ber, even if you can't join us in per­son, you can enjoy the Asto­ria Events Cen­ter per­for­mances online, thanks to KMUN's live-streaming. This is a won­der­ful oppor­tu­nity to par­tic­i­pate from the com­fort of home.

You can catch a clos­ing show back in Port­land, again at the Jack Lon­don on Mon­day, Feb­ru­ary 24, 7 to 9 pm, fea­tur­ing another stel­lar crew: Meezie Her­mansen, Lara Messersmith-Glavin, Rob Seitz, Rich King, Abi­gail Calkin, and Moe Bowstern.)

Last is an event that I'm par­tic­u­larly hon­ored to join. She Tells Sea Tales: An Evening of Sto­ry­telling is a fundraiser for the North­west Mar­itime Cen­ter Girls Boat Project in Port Townsend, Wash­ing­ton. It's Sat­ur­day, March 8 — Inter­na­tional Women's Day! — from 7 to 10 pm at the North­west Mar­itime Cen­ter, and fea­tures regional authors Kel­ley Wat­son, Bil­lie Delaney, Moe Bow­stern, Erin Fris­tad, Holly Hughes, Emily Mon­son, Bar­bara Sjo­holm, Diana Tal­ley, and me. Tick­ets are $15, avail­able here. I hope you'll  join us in sup­port­ing the Girls Boat Project.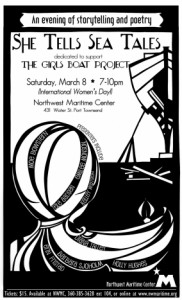 That's a whole lot of good­ness com­ing up fast, bud­dies. Mean­while, I've got two weeks left to make the most of. The air­waves will be quiet. My letter-writing has slowed, too, so if I owe you a response, know that it's on its way… Just not quite yet. All of you who've taken the time and care to write, I can't tell you how much your pres­ence has car­ried me through this process.
Sign­ing off, sweet­ies, with love and gratitude,
Tele
c/o ELC
PO Box 429
Mar­ble­mount, WA 98267