Readings, Women in Fisheries, & Frankenfish, Oh My!
Last week was a good time, sweeties.
I spent five days up in Sitka, which – for me – guarantees a good time. I wouldn't usually get to be there in February, and owe the Sitka Maritime Heritage Society a big thank you for providing the excuse, by way of an invitation to join their panel discussion, "Women in the Fisheries." I waffled for about a day – just long enough to check that I had enough Alaska Airlines miles for a ticket – before confirming. Who was I kidding? Time in Sitka when we weren't fishing? Of course I'd go!
This trip was special from the start. I'd scheduled an afternoon's layover in Juneau, to allow a visit with my friend Lynn. We sat on the deck of the house he built himself, every piece of wood meticulously selected and delicately handled, from the beams above to the flooring below. He pointed out hare tracks – unusual in Juneau – left in the mounds of snow. I cradled a cup of chamomile tea in gloved hands, feeling myself relax from the inside out as I took it all in. Moss-draped forest leading down to the ocean's steel blue, the Chilkat Range sprawling on the other side of the channel. Several ravens flying by at eye level, karulk-ing as they went, voices raised against the surf rolling in below. This was my friend's front yard, I marveled.So swept up in all of the awesome – a word used here in its truest sense – I fumbled and dumped most of a hot cup of tea in my lap. My friend kindly pretended not to notice.
(I've said it before and will surely say it again: if you're on the Facebooks, send Lynn Schooler a friend request to receive his daily photo meditations on his stunning home.)
It was dark when my plane landed in Sitka that night. And it was still dark when I walked to the Backdoor Café at 6:25 the next morning, a perfect sliver of moon suspended over the Alaska Pioneer's Home, its glow guiding my steps to the first pie and coffee. But within a few hours, dawn had broken in a big, glorious way.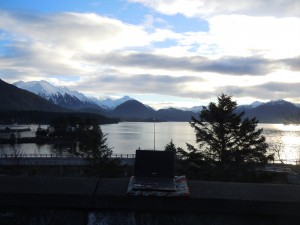 I had a reading scheduled for that evening, but hadn't yet practiced. Alone on Castle Hill in February's unexpected morning sun, I opened my laptop and practiced reading to the mountains. An excerpt from my manuscript, it was a piece about place and love, identity and belonging… The usual, near-cliché Insider/Outsider angst so common for those of us precariously perched between worlds. The mountains were a stern-faced audience, unmoved, but it felt good to speak those words to them all the same.
(If you're in Sitka on the month's first Wednesday, don't miss Writers Read. Organizer Brooke Schafer has created something lovely and important in this community event, making writing a bit less lonely as she brings local writers and listeners together. Follow the Writers Read schedule here.)
Snow crept down the foothills the following morning, briefly spitting on downtown. The "Women in Fisheries" panel was that night. With articles in Juneau's Capital City Weekly and on Raven Radio, Ashia did a tremendous job of promoting the event. It showed: over 100 people attended. A conscientious moderator, Eric Jordan effectively encouraged Linda Behnken, Linda Danner, Marie Laws, Pat Kehoe, Coral Pendell, and me to share some of our stories. A multi-generational panel, these were some humbling women to sit among. Both of the Lindas began crewing over 30 years ago, working their way up to running their own boats. In 1950, as a 13 year old, Marie helped save a man believed lost at sea. Pat and her husband raised their two daughters fishing. Coral, Pat's eldest daughter, and her sister bought their own troller – at the ages of 21 and 17.
The thing about hosting this event in a fishing community is that we panelists weren't remarkable. When Eric asked how many of the women in the audience had worked in fisheries, about two-thirds of the room stood up. Any one of them could've taken a spot on stage, and some did. This audience participation was my favorite part of the evening, when other women shared the stories of how they got into fishing and what their experience had been.
(The Sitka Maritime Heritage Society and North Star Television did film this discussion. When it's available to view, I'll let you know.)
Two days later, I sat alone in my friend Mary's house, looking out at Sitka Channel through rain-splotched glass. A longliner I knew, the El Tiburon, cruised by. Studying the faded pink buoys cinched to the port rail, I tried to imagine all of the pounds of fish that boat had harvested, all of the weather it'd seen. And like an unseen wave, sudden longing hit me. Oh, man… I've got to get back out there. The common thread through each woman's story: regardless of the challenges, we all found a special freedom in fishing. We all loved our lives at sea.
It was that love that drew many Sitkans out on a chilly Saturday afternoon. When former fisherman Paul Rioux learned the FDA is moving towards approving genetically engineered salmon, he didn't just shake his head at this threat to our health, livelihood, and wild salmon stocks – he organized.
This matters, friends. You'll hear me talk about it again. Thanks to an unexpected comment period extension, we've got another two months to spread the word and get as much public input as possible. To learn more, listen to this Raven Radio interview with Paul and his co-organizers, middle school student David Wilcox and Sitka Conservation Society's Ray Friedlander.
(To share your thoughts with the FDA, go to www.regulations.gov and search "GE salmon." Click "Comment Now" to submit your information. For the required field "Organization Name," enter "citizen.")
Readings, rallies, and more socializing in five days than I typically squeeze into a month… An awfully good visit. I'm grateful to all of my Sitka family for making it such a special time.
Speaking of time and visits… I've been a negligent blogger in 2013, but you've all been on my mind. How are you? What are you working on? I'm feeling a bit out of touch, friends, and would love to hear what's new for you.