Readings, Women in Fisheries,
&

Frankenfish, Oh My!

Last week was a good time, sweeties.

I spent five days up in Sitka, which – for me – guar­an­tees a good time. I wouldn't usu­ally get to be there in Feb­ru­ary, and owe the Sitka Mar­itime Her­itage Soci­ety a big thank you for pro­vid­ing the excuse, by way of an invi­ta­tion to join their panel dis­cus­sion, "Women in the Fish­eries." I waf­fled for about a day – just long enough to check that I had enough Alaska Air­lines miles for a ticket – before con­firm­ing. Who was I kid­ding? Time in Sitka when we weren't fish­ing? Of course I'd go!

This trip was spe­cial from the start. I'd sched­uled an afternoon's lay­over in Juneau, to allow a visit with my friend Lynn. We sat on the deck of the house he built him­self, every piece of wood metic­u­lously selected and del­i­cately han­dled, from the beams above to the floor­ing below. He pointed out hare tracks – unusual in Juneau – left in the mounds of snow. I cra­dled a cup of chamomile tea in gloved hands, feel­ing myself relax from the inside out as I took it all in. Moss-draped for­est lead­ing down to the ocean's steel blue, the Chilkat Range sprawl­ing on the other side of the chan­nel. Sev­eral ravens fly­ing by at eye level, karulk–ing as they went, voices raised against the surf rolling in below. This was my friend's front yard, I marveled.So swept up in all of the awe­some – a word used here in its truest sense – I fum­bled and dumped most of a hot cup of tea in my lap. My friend kindly pre­tended not to notice.

(I've said it before and will surely say it again: if you're on the Face­books, send Lynn Schooler a friend request to receive his daily photo med­i­ta­tions on his stun­ning home.)

It was dark when my plane landed in Sitka that night. And it was still dark when I walked to the Back­door Café at 6:25 the next morn­ing, a per­fect sliver of moon sus­pended over the Alaska Pioneer's Home, its glow guid­ing my steps to the first pie and cof­fee. But within a few hours, dawn had bro­ken in a big, glo­ri­ous way.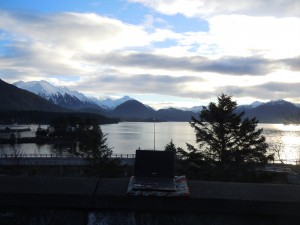 I had a read­ing sched­uled for that evening, but hadn't yet prac­ticed. Alone on Cas­tle Hill in February's unex­pected morn­ing sun, I opened my lap­top and prac­ticed read­ing to the moun­tains. An excerpt from my man­u­script, it was a piece about place and love, iden­tity and belong­ing… The usual, near-cliché Insider/Outsider angst so com­mon for those of us pre­car­i­ously perched between worlds. The moun­tains were a stern-faced audi­ence, unmoved, but it felt good to speak those words to them all the same.
(If you're in Sitka on the month's first Wednes­day, don't miss Writ­ers Read. Orga­nizer Brooke Schafer has cre­ated some­thing lovely and impor­tant in this com­mu­nity event, mak­ing writ­ing a bit less lonely as she brings local writ­ers and lis­ten­ers together. Fol­low the Writ­ers Read sched­ule here.)
Snow crept down the foothills the fol­low­ing morn­ing, briefly spit­ting on down­town. The "Women in Fish­eries" panel was that night. With arti­cles in Juneau's Cap­i­tal City Weekly and on Raven Radio, Ashia did a tremen­dous job of pro­mot­ing the event. It showed: over 100 peo­ple attended. A con­sci­en­tious mod­er­a­tor, Eric Jor­dan effec­tively encour­aged Linda Behnken, Linda Dan­ner, Marie Laws, Pat Kehoe, Coral Pen­dell, and me to share some of our sto­ries. A multi-generational panel, these were some hum­bling women to sit among. Both of the Lin­das began crew­ing over 30 years ago, work­ing their way up to run­ning their own boats. In 1950, as a 13 year old, Marie helped save a man believed lost at sea. Pat and her hus­band raised their two daugh­ters fish­ing.  Coral, Pat's eldest daugh­ter, and her sis­ter bought their own troller — at the ages of 21 and 17.
The thing about host­ing this event in a fish­ing com­mu­nity is that we pan­elists weren't remark­able. When Eric asked how many of the women in the audi­ence had worked in fish­eries, about two-thirds of the room stood up. Any one of them could've taken a spot on stage, and some did. This audi­ence par­tic­i­pa­tion was my favorite part of the evening, when other women shared the sto­ries of how they got into fish­ing and what their expe­ri­ence had been.
(The Sitka Mar­itime Her­itage Soci­ety and North Star Tele­vi­sion did film this dis­cus­sion. When it's avail­able to view, I'll let you know.)
Two days later, I sat alone in my friend Mary's house, look­ing out at Sitka Chan­nel through rain-splotched glass. A long­liner I knew, the El Tiburon, cruised by. Study­ing the faded pink buoys cinched to the port rail, I tried to imag­ine all of the pounds of fish that boat had har­vested, all of the weather it'd seen. And like an unseen wave, sud­den long­ing hit me. Oh, man… I've got to get back out there. The com­mon thread through each woman's story: regard­less of the chal­lenges, we all found a spe­cial free­dom in fish­ing. We all loved our lives at sea.
It was that love that drew many Sitkans out on a chilly Sat­ur­day after­noon. When for­mer fish­er­man Paul Rioux learned the FDA is mov­ing towards approv­ing genet­i­cally engi­neered salmon, he didn't just shake his head at this threat to our health, liveli­hood, and wild salmon stocks – he orga­nized.
This mat­ters, friends. You'll hear me talk about it again. Thanks to an unex­pected com­ment period exten­sion, we've got another two months to spread the word and get as much pub­lic input as pos­si­ble. To learn more, lis­ten to this Raven Radio inter­view with Paul and his co-organizers, mid­dle school stu­dent David Wilcox and Sitka Con­ser­va­tion Society's Ray Friedlander.
(To share your thoughts with the FDA, go to www.regulations.gov and search "GE salmon." Click "Com­ment Now" to sub­mit your infor­ma­tion. For the required field "Orga­ni­za­tion Name," enter "citizen.")
Read­ings, ral­lies, and more social­iz­ing in five days than I typ­i­cally squeeze into a month… An awfully good visit. I'm grate­ful to all of my Sitka fam­ily for mak­ing it such a spe­cial time.
Speak­ing of time and vis­its… I've been a neg­li­gent blog­ger in 2013, but you've all been on my mind. How are you? What are you work­ing on? I'm feel­ing a bit out of touch, friends, and would love to hear what's new for you.