Twelve years ago I went fishing to save my life. I begged a six-week sabbatical from the non-profit where I ran a dinner program and trolled alleys for young people in crisis, asking for a week at sea for every year I'd spent on land. My childhood best friend, Marlin, needed a deckhand. I needed to know if I still existed outside city shadows.
Fishing's familiar demands soothed me. The physicality of the work pulled me back into my body, while the monotony forced introspection I'd long avoided. The six weeks washed by. Each revealed a new layer of how burned-out, broken, and outright fucked-up I'd become. When the realization that I couldn't go back to my job outweighed my shame and fear of letting people down, I sent a mass email to my colleagues, rather than honoring my employer with private notice. I didn't even see the impropriety. That's how far gone I was.
I'm recalling that group email today as I write to share some news. The kind of news that should be shared in person, individually, with eye contact obscured only by steam rising from a cradled cup. Instead, we are here, communicating across screens and time. Once again, it's the best I can do.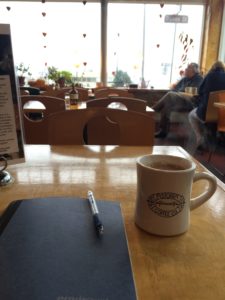 The Nerka spent most of last May trolling off the Washington coast. We leased a permit and charged out to fishing grounds known as the Prairie, 35 miles offshore. With weekly catch limits of forty king salmon, it didn't take long before we'd be back at the dock in Neah Bay, guests of the Makah Indian Nation.
During one of those times in port, I scheduled a call with my literary agent, Pamela, to see if there was any news about my book. We hadn't heard anything from my editor since I submitted the fourth revision in late February. I'd reminded myself everyone's lives are chaotic and complex; her silence didn't have to be about me or my book.
Standing on the deck, I laughingly warned Pamela about the background noise, a pride of sea lions lounging on a neighboring pier. Even over their bellowing, I could hear her take a deep breath.
"I have some very hard news. Your editor has decided not to accept your latest revision. They're retracting your contract."
We each have our own walk through grief. Automatically, I always first turn to the path my parents cleared: don't wallow, problem-solve, get shit done. Even as my stomach dropped to my toes, my brain focused on getting shit done. Okay. Okay. If she doesn't want it, who else will? Do I have to rewrite the original proposal, or can we submit the book as is? What do you need from me first? I fumbled for a pen to take notes.
Pamela's gentle words were extended palms, urging me to stop rushing to the next task. Stop trying to outrun my feelings. And those feelings did indeed catch right up with me, steamrolling over me. I don't understand; she responded so well to the third revision in December; she named the problem areas, I thought I addressed them. What changed? How did we go from "We're so close!" to "Never mind"?
This confusion was what broke me. I puddled to the deck, struggling to mask a thickening voice. Pamela wasn't fooled. Being the bearer of hard news takes a special kind of strength and compassion. Then and now, I'm grateful to have heard this from her, steadfast support audible as she spoke. After confirming Joel was with me, that I wasn't alone, her voice steeled. "This is not your book. This is a terrible, shitty, shitty experience, but it's not your book."
Joel was waiting in the cabin. I crumpled into his arms. Mouth stretched in silent keening, I couldn't answer his questions, join in his outrage or accept his consolation; couldn't hear anything but my own insecurities, affirmed. I'd held the golden egg writers dream of – and I'd lost it. How am I going to tell everyone who's been so supportive of Hooked?
Sometimes, in times of deepest wounding, even the gentlest touch is too much. Maybe especially the gentlest touch, when we believe ourselves unworthy of such kindness. I shrank from Joel's hand stroking my back as I bent over the galley sink; his insistence, firm as water's downstream promises, that this wasn't the end. I pulled away from it all, went down to the fo'c'sle, crawled into the bunk fully dressed and drew the blanket over my head.
I dreamed I was going fishing with Marlin. Marlin: my chosen brother, the captain who provided a refuge from social work, the friend who urges reflection. I dreamed we were in a mad scramble to throw everything on board and charge out to the fishing grounds, no time to consider the chaos or tend to the details, now we had to go, go now! I dreamed my nerves vibrating from the urgency, the recklessness, the absolute absence of control.
Only as I cut the dock lines did I get a look at the boat taking us to sea. Below the spray-painted name and littered deck, the rusted steel hull was visibly thin at the waterline. It was a derelict I'd noted in my waking life. I'd cringed walking by. That doesn't look like a boat that's ready to leave the dock.
There is nothing subtle about my subconscious.
I woke from that dream knowing my book and I were going to be okay. Not only okay: knowing this was for the best.
Yes, this was a shitty experience. It hurt. But my natural tendency is – as author Heather Lende urges – to "find the good," and it didn't take too long a look to recognize this hurt was one of ego. Rejection lands so personally: fear of what it says about me, my work; fear of what people will think. Pamela's firm assurance ("This is not your book") pulled me through this initial response of ego, through the fear and pain. The friends who've accompanied me on this journey – you, reading this – have always embodied love and encouragement. How could I imagine you'd receive this news with anything other than compassion?
So I find the good:
Hooked sold on proposal, as an idea and a few sample chapters. After conversations with a handful of interested editors, I chose the one who most responded to Hooked's feminist themes. That she was with a remarkable publisher, home to countless authors and books I admire, was a serious confidence booster for this first-time author.
Midway through our work together, my editor took a job with another publishing house. I didn't think much of it, assured that her new employer would allow her to see pre-existing contracts through. Maybe that didn't end up being the case; I don't know and ultimately, it doesn't matter. What I know is that I came into this partnership with little more than a dream of a book and now, thanks to her initial enthusiasm for and belief in the story, that book exists. As those 319 carefully crafted pages and I move forward on our own, I'll never forget the impact Hooked's first editor had on both.
I can't find the good without seeing you. You gave me the courage to pursue this work. You give me the conviction to continue.
If you've asked me about my book recently, I've lied to you. The contract had to be formally revoked, our divorce finalized, before I could talk about it or make public this post. So I've spent the past six months lying – to the barista at my favorite coffee shop, to the beloved teacher who is Hooked's godmother, to my stepmom who opined that no news must be good news. To every loving friend who's championed Hooked. Over and over again, I answered with a shrug and a smile, forcing a casual tone, I don't know, I haven't heard anything, I'm just going fishin'… That, dear ones, has been the hardest part of this experience. Writing memoir is about truth-telling – valuing, believing in, committing to the truth as I know it. Whether by direct falsehood or omission, I have hated lying to you.
Of the few friends I told in person, some questioned my need to publicize this news. Posting this was important to me. Despite my silence over the past year, we made this blog an honest place, a safe place, through years of intimate public conversations. I wanted this to be a space of online vulnerability and trust. Your willingness to reply in kind made that possible. How could I not share this with you, in this way?
I wish I could have come out to you sooner. I'm glad to be here now.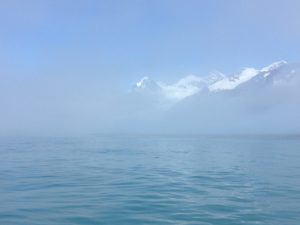 History repeated itself. As the North Pacific received a social service refugee all those years ago, she took me back in this summer of need. I went fishing. I again lost myself to the work and the mountains, to long days and maritime meditations. I practiced being present with Joel and friends in a way that I haven't been for the past three years. I made a plan for Hooked's next steps, determined to make sure this paper ship is seaworthy, and allowed periodic waves of sadness, garnering strength for the work ahead. Preparing – once again – to get shit done.
Read More