On Writing
"There is no greater agony than bearing an untold story within you." (Maya Angelou)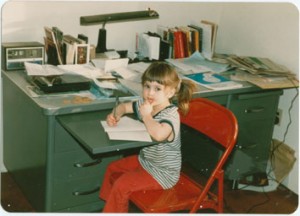 When I was little, my stories didn't go untold. With few other kids around, written words were my closest friends. My parents could set me down anywhere with a pen and some paper, and words would stream without hesitation through my fingertips to the page. Writing seemed easy – as natural as breathing.
As a teenager, my writing shifted from natural to necessary. From Sitka's fish processing plants to Hollywood Boulevard, I spent long nights filling journals, hoping written words would untie my tongue. Nursed on the virtues of being quiet and being polite, my vocal chords didn't know how to speak anger, confusion, grief. My pen did.
Then several things changed.
I started talking in my early twenties. That is, I began to see that some things mattered enough to speak up, even when I was afraid. That I didn't want to be the person who played nice at the expense of her values.
And as my speaking voice emerged, my writing voice retreated – then vanished.
The fishing fleet that had been home suddenly felt like a place I didn't belong. Tired of killing for a living and pissed off at captains who delighted in teasing their "liberal little college girl," I traded the sea for the streets – "The Ave" in Seattle's University District. For six years I threw myself into serving homeless youth and young adults. There was no writing. Careening from crisis, to drama, to trauma, there was barely breathing. Just a lot of love.
Love didn't run out, but my ability to subsist on it alone did. I left social work and went back to the sea, hoping wild surroundings and physical labor would weld my broken bits back together. Working on boats with like-minded captains felt affirming, like the fleet had room for left-listing fisherfolk after all. I started journaling again.
Throughout that ocean-alleys-ocean hopscotch, I'd periodically mentioned "a fishin' memoir" that I wanted to write "someday." Said as a casual aside, I hadn't actually done anything to bring that book to life. I didn't write as a daily, disciplined practice. Occasionally I pushed myself to go to workshops, brief classes meant to jump-start your writing. But the only jumping I did was out of my seat at class's end. Certain the other, real writers could see the fraud amongst them, I bolted for the door as they exchanged contact info and warm goodbyes.
November 2010. I saw a flyer for a reading at Village Books. A former social work colleague, Cami Ostman, had published a memoir. I hadn't been in touch with Cami for almost a decade, but decided to attend.
Listening to Cami read from Second Wind, I marveled that someone I knew had achieved such astonishing feats. Completing a marathon on every continent was something my non-runner self couldn't fathom. But writing a book about it? Truly Herculean.
That was part of my problem: I'd elevated authors to deities. In her sincere, inclusive manner, Cami made her achievements human. Earned, rather than innate. Just as she'd completed each marathon one step at a time, she'd written her book by sitting down and doing the work, one word after another.
This simple truth struck me as revolutionary. Suddenly I had an honest-to-god friend who'd written a book – someone I could call and hug and laugh with, a mortal woman like me in so many ways – and she'd written a book. Could that mean…?
I believe that when you genuinely give yourself over to a dream, doors open. Cami was the warm hostess standing in the foyer, inviting me in. She shared every step of her journey from a woman with a story to published author. Her generosity imparted a crucial lesson that other mentors would later echo: writing is not a competitive sport. The saboteurs in our minds – doubt, guilt, shame, fear – are rivals enough; writers should be each other's greatest promoters. This means seeing the literary world as a place of abundance, rather than scarcity, understanding that there's enough success and opportunity for us all.
Cami led me to Laura Kalpakian's "Memories to Memoir" course. My classmates ranged from those feeling the first tickling desire to create, to others actively shopping proposals, yet Laura treated all our works with equal gravity, pinpointing strengths and weaknesses with the no-bullshit incisiveness of a literary surgeon. She trained our eyes, making us better writers by making us better readers. She was the maestra I'd been searching for.
The thing about memoir – particularly those early, lurching drafts not yet sure of where they're going – is the immediate intimacy it creates. My classmates and I skipped every social norm of getting to know each other, and instead leapt right into confiding the questions that kept us up at night. What was I searching for, solo traveling to Ireland over and over again? How could the dog of my dreams have an aggressive streak? How did I survive my Perfect Lesbian Family falling apart? (Visit Jolene Hanson, Kari Neumeyer, and Pam Helberg to follow these stories.)
The women behind those questions became my writing buddies. And as Kari urged her readers, "Seriously – I can't emphasize enough the importance of writer buddies." That, times infinity. I'll never finish my book if I don't keep my butt in the chair and do the work – I get that. But these relationships with classmates and teachers, friends and mentors, blog followers and commenters, are what inspire, encourage, and hold me accountable. They give me the courage to return to that chair each day, even when it's painful or scary.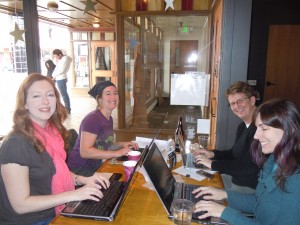 As a process, for me writing is often still painful. The difference is that I now wrap myself in the comfort of having heard enough other authors, people who've crafted stunningly beautiful books, admit that it's not always easy or fun for them, either.
("Fun?" John Straley echoed. "It's like having homework due and and it's Sunday night, every fucking day of my life.")
Which makes me think that commercial fisherman is the perfect alter-ego for a writer – for this writer, at least. Getting thrown around the boat during 18-hour days on deck in sideways rain and wind, all to make a living one salmon at a time, isn't fun – but there's no quitting once you're out there. Not fishing isn't an option: I wouldn't know myself without that time at sea.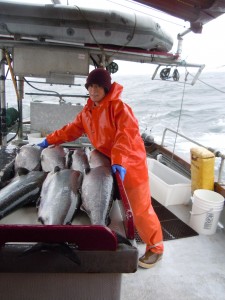 Maybe a similar need drives so many of us to continue banging our heads against our keyboards. It still hurts, but like Richard Price said, "the pain now is because the only thing worse than writing is not writing."
*****
Resources, People, and Truths I Lean On (Hard)
I'm blessed that both of my home communities have amazing bookstores: Old Harbor Books in Sitka, Alaska, and Village Books in Bellingham, Washington. Independent bookstores do heroic work to foster lively literary communities – readings, events, opportunities you won't get from Amazon. They take excellent care of readers and writers; please take care of them in return.
Speaking of literary communities, Bellingham's Red Wheelbarrow Writers has provided essential boosts of writer-ly energy when I'm running low. I love them. I also love Sitka's Blue Canoe Writers, headed up by poet Vivian Faith Prescott. And going to Skagway's North Words Writers Symposium was one of the best things I've ever done.
But you don't have to leave your house to find community. Remember that bit about other writers being your team? Authors Deb Vanasse and Andromeda Romano-Lax exemplified that collaborative spirit when they created the 49 Writers blog.
Author Cami Ostman is one of the most insightful writing teachers I've known, combining her therapist background with an incisive reader's eye. She's a remarkable developmental editor, a motivator, and kind. If you're ready to commit to writing a first draft of that memoir you always said you'd write "someday, now is the time, through Cami's nine-month intensive online Memory into Memoir program.
Those of us beginning our literary journeys, let's stop calling ourselves "aspiring" writers. If you're writing, you're a writer. Don't abdicate the power of your identity – your authority – to anyone else's approval. If for you that weighty word requires the affirmation of publication, then start publishing yourself. Moe Bowstern made an art of self-publishing with her 'zine, Xtra Tuf, and blogging is a free, instant connection to your audience. You don't need permission to put your words into the hands of your readers.
As you start dispensing those words, telling your story, some of your loved ones will be uneasy – particularly if you're writing memoir. "But WHY do you feel you have to tell your story?" those uneasy loved ones asked me. I fumbled my response. Meadow Braun's For Writers Who Have Considered Memoir When the Story is Enuf answered it in all of the ways I wish I had. (Big thanks to Theo Pauline Nestor for sharing Meadow's post on her excellent blog, Writing is my Drink.)
Sharing a birthday with Sherman Alexie, a writer who doesn't apologize for his stories or the way he tells them, makes me happy. I love his books, but his essay, Why the Best Children's Books are Written in Blood, left me teary-eyed and shivery with gratitude.
How to Become a Famous Writer Before You're Dead, by Ariel Gore. (Visit Ariel's website for info on Literary Kitchen classes. Subscribe for weekly writing prompts!)
What's Your Book? A Step-by-Step Guide to Get You From Inspiration to Published Author, by Brooke Warner. Warner Coaching is a great resource, as are Brooke's frequent writing tips on Facebook.
Two classics: Stephen King's On Writing, and Anne Lamott's Bird by Bird.
Josh Swiller's Twelve Tips on Writing. (Number 10: "Don't be chasing perfect sentences and metaphors as beautiful as rainbow moonbeams reflected in baby unicorn eyes. Settle for making each draft a little better.")
Dani Shapiro's On Expectations. Her other "Moments Of Being" posts. (They're short; savor them.) I keep her book, Still Writing: The Pleasures and Perils of a Creative Life, on my desk and open it at random when I'm stuck. Whatever page I find myself on, her advice rings true.
Elizabeth Gilbert on Your Elusive Creative Genius. A different, fantastic perspective on our relationship with creativity.
Louise Erdrich's poem, Advice to Myself, to remember to honor our work more than our endless distractions.
Andrea Gabriel's oh-so-important reminder that Resilience Beats Talent Every Time.
Through all the writing highs and lows, remember this: It's the making of the thing that matters. How that changes you. It's The Imprinting of the Work on Your Soul.
What else do writers do, besides write? We READ. For a fantastic trip down the internet rabbit hole, visit Recommend Me a Book. This collection of various books' first pages (unidentified unless you want to know what one is) is a great opportunity to study how authors open their story – and notice which of those techniques succeed in grabbing your interest.
Cheryl Strayed's legendary Dear Sugar column #48, Write Like a Motherfucker. And pretty much anything else she's written or said, including this final thought:
"Do the work. Keep the faith. Be true blue. You are a writer because you write.
Keep writing and quit your bitching. Your book has a birthday. You don't know what it is yet."