Nerka Sea Frozen Salmon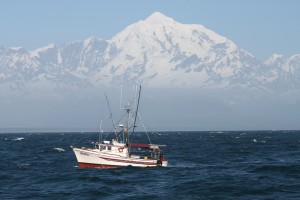 The F/V Nerka is a 43-foot salmon troller, based out of Sitka, Alaska. Built in 1979 by Don Power and Mary Jean Brady, the Nerka soon became a family operation: both son Joel and daughter Ashley came aboard as infants. In 2004, Joel took the helm as a 22 year old skipper. On his second season, I joined him. We've been running the Nerka together ever since, spending every summer chasing king salmon and coho from the Fairweather Grounds to the Canadian border.
Don and Mary Jean retired from long days at sea, but they didn't leave the business of fish. They began self-marketing the Nerka's catch, sharing premium quality wild salmon with food co-ops, grocers, and restaurants nation-wide. (Read Salmon Season, an article by one of our customers, the Wedge Natural Foods Community Co-op in Minneapolis.)
As trollers, the Nerka's salmon are all hook-and-line caught, landed and processed individually. Each fish is thanked as it comes aboard, immediately bled, and meticulously cleaned. Within an hour of landing, pre-rigor mortis, the now-bloodless salmon is blast-frozen at -38 degrees, locking in an unparalleled level of "fresh." Every few days, I bundle up to spend several hours in the hold, hand-dipping each fish into a salt water bath – twice! – to create a protective glaze that prevents freezer burn. We typically stay out at sea for several weeks – however long it takes until we're full – then return to Sitka to ship our catch south.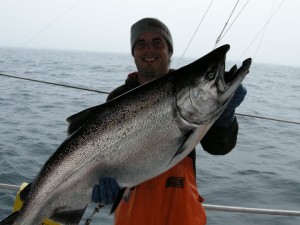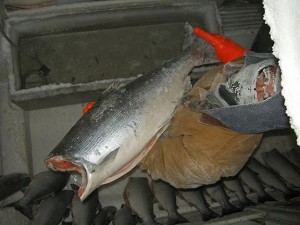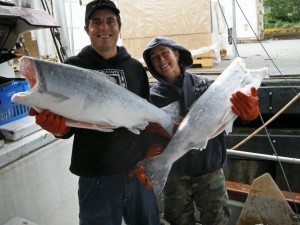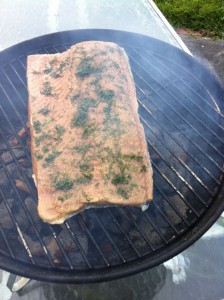 Nerka Sea Frozen Salmon is truly a family business, striving to share the highest quality wild salmon for your enjoyment and health, while protecting Alaska's salmon stocks as a sustainable fishery with minimal impacts on the environment. Please do visit our website and follow us on Facebook, where you'll see more photos of our stunning office, as well as many of the restaurants and markets where you can enjoy our harvest. Thank you for choosing wild Alaskan salmon; we're grateful for your support!