Joel Brady-Power Photography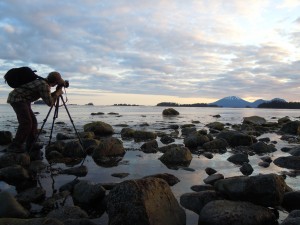 Hooked readers know Joel Brady-Power as Cap'n J: skipper of the Nerka, sweetheart of Tele, co-parent of Bear the Boat Cat. Joel gained his sea legs when he was two weeks old. He grew up aboard the Nerka, and no one doubted his future path – this was a kid obsessed with fish. At the ripe old age of 22, Joel took the helm of the boat he'd grown up on. (Read "A Fishing Love Story: Tribute to Cap'n J" to learn more about his remarkable journey to becoming Cap'n J.)
When not at sea chasing salmon, Joel is a gifted landscape photographer. He spends every spare moment among mountains and less-peopled places, bushwhacking his way to remote waterfalls, chasing the perfect coastal sunset. He credits his commercial fishing upbringing for instilling his deep appreciation of nature's wonders.
"The ocean has always inspired me," he explains, "from the creatures dwelling beneath the waves to the surrounding majestic landscapes. Fifteen thousand foot peaks rising from green glacial water, steep coastlines blanketed in old growth forests, humpback whales dancing around our 43-foot boat… My summer home. These surroundings have had a profound impact on my life. They continue to influence the way I interact with the world today."
"I find inspiration in my photography in the same places that first inspired me as a child – the wild places of the world. I would like to remind people of the splendor that is often just beyond our own backyards. I hope to convey this sense of beauty and wonder to others, so that they will see the importance of preserving these places and seek to reconnect with nature themselves."
Follow Joel's Work on Facebook.
Keep close to Nature's heart… and break clear away, once in a while,
and climb a mountain or spend a week in the woods.
Wash your spirit clean.
(John Muir)