Fisher Poets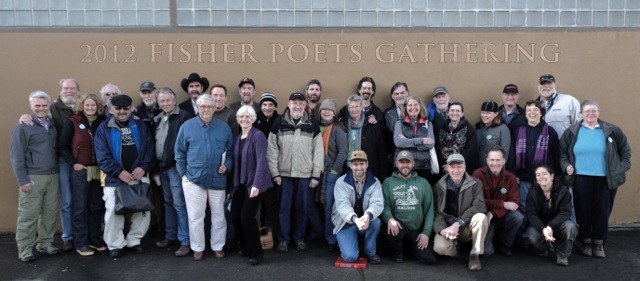 The FisherPoets Gathering began in 1997, when a handful of far-flung fishin' friends met in an Astoria, Oregon, pub to trade stories in the off-season. They had such a good time, they decided to do it again the next year… And the next.
Today, FPG is a cultural institution. Every last weekend of February, commercial fishermen and women from international coastlines (plus one cowboy) flood Astoria, drawn to share poems, stories, and songs celebrating our unique lifestyle. Appreciative audiences fill multiple venues. There are workshops, story circles, and a bookstore stocked with your favorite FisherPoets' work. It's the year's highlight for many.
Want to join us? Come to Astoria, last weekend of February. Visit the Fisher Poets Gathering official website for information on attending, performing, and volunteering.
Curious? Writer/photographer (and generous mentor) Pat Dixon designed a gorgeous online anthology of many FisherPoets' individual work. Visit In The Tote to get to know more of us.
Prior to my first FPG in 2012, I'd been curious, too. I'd heard about the Fisher Poets. With a documentary film, write-ups in a bounty of magazines including Smithsonian, and the celebrity status of legendary performers, it sounded like something magic. Literary celebration AND fisherfolk? Bliss! But our off-season's open days tended to fill before I realized it, and Astoria was a state away. Like too many valuable experiences, attending FisherPoets got pushed aside by life's more mundane demands.
As the 2011 fishing season drew to a close, September's days growing ever-shorter, Joel and I began to talk about our goals for that winter. "I want to make it to FisherPoets this year," I said.
"Okay," he responded. "Let's do it."
And so we did. And it was amazing. High on the whole experience, I couldn't stop writing about it for weeks after.
From outsider anxiety to immediate connection. Read Gifts of the Sea: Fisher Poets 2012, part 1.
How did my first performance go? Read A Greenhorn's Debut.
Wait, what? Joel writes a poem five minutes before showtime, and grabs second place? Check out Cap'n J Takes the Stage: Fisher Poets 2012 Onsite Poem Contest to watch his performance, plus first place winner Hillel Wright.
(Convinced yet? Truly, this is a GOOD time. Whether you're a fan of words or the sea (or the best fish & chips), come join in the fun. Last weekend of February. Be sure to say hello.)