Bear the Boat Cat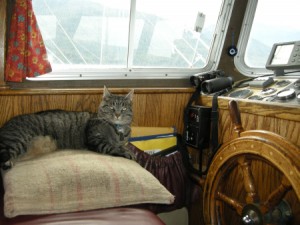 At sea or on land, our family isn't complete without Bear the Boat Cat. After spending several months in the care of the Sitka Animal Shelter, she joined the F/V Nerka in July 2006. Of moss green eyes and a generous waddle, she's an unlikely fisherman. She's not interested in fish hearts or the happenings on deck. Instead, she does an excellent job as the Nerka's Chief Morale Officer, supervising from the comfort of the bunk. On days of sideways rain, "festive" waves, and assorted fiascoes, we're well aware that she has the best job on the boat.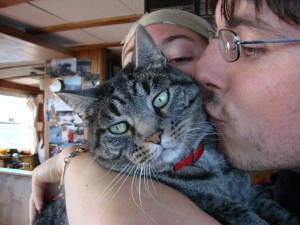 For additional Bear stories and sightings:
Sometimes we're terrible parents. Video of a too-typical September day on the water, with Bear's obvious discomfort. Beyond a Final Scratch: Clawing Our Way to the Season's End.
A reluctant boat cat: a photo of Bear in her preferred habitat. In Limbo Between Land and Sea: Shipping Out.
Just like Joel and I, Bear gets to (has to) migrate with the seasons. Trading One Deck for Another.
If you like Bear, you'll love these boat cats from Japan. (Added bonus: personal boat cat history, and video of Bear talking with our neighbor crows!) Boat Cats. Fishermen. Heaven.