Fear, Art, and Love in the Canadian Rockies
Head down, I watch my snow boots creep across the lake, one shuffle-step at a time. Joel doesn't shuffle. He hustles, hunched beneath his camera bag as he rushes for a distant spot of blue. Ice wiped clean by the wind: the perfect frame to lead into the fast-approaching sunset. It's negative three degrees. As I murmur into the scarf swathing my face, words form frosty pellets in the fibers. I can do this. I can do this. A chant intended for my ears only, the lake responds. Bu-BUM. A deep drum beat, issued from somewhere far below. A heartbeat, so much steadier than my own.
A half-mile east, tents and propane heaters dot the lake as ice fishermen jig for trout. Two of them, John and Ymir, assured me the ice is safe – eleven inches thick. My fear isn't rational, yet it's real. Every step terrifies me. I follow every step with another.
We're ending 2014 with a five day road trip in the Canadian Rockies. Joel comes up here every winter. It's a sacred place for him; he sang Hozier's Take Me to Church as we drove the Icefields Parkway. This is the first time I've joined him. There's always been some reason not to: busy writing Hooked's proposal, busy writing the first draft, busy. I've always sent him off with a kiss and wishes to be safe, get some good shots.
Now that I'm finally here with him, I'm learning that "be safe" and "get some good shots" aren't necessarily compatible goals, and we have differing perceptions of risk. We spent our first afternoon scouting sunset in a mountain-bordered meadow outside of Jasper. Joel crashed through tessellations of creeks without hesitation. I cringed at every crack.
That night, I didn't keep walking. I dug my heels into a tuffet of trustworthy earth, unwilling to go any farther, and waved him on. The tree-line on the far side of the field welcomed him with boughs extended, holding the day's remaining light in green arms full of snow. Backlit, he appeared dark, an impression of impermeability that was as misleading as the sun dog we'd seen earlier in the day. Joel is transparent. He'd wanted so much to share his beloved mountains with me, secretly hoping their spirit would move me as it does him, that wonder and joy would surpass anxiety and discomfort. That I would make his faith my own. Instead we watched the sunset from separate viewpoints – Joel crouched behind his camera at his chosen composition, me pacing a labyrinth of uncomfortable questions. Where are the lines between being there for the person you love, and being there for yourself? Expanding your comfort zones, and honoring your boundaries? By the time the last embers of color had faded from the peaks above, I'd stomped a hollow of answers into the snow. I couldn't read any of them.
Back in Jasper, we talked about our differing reactions to the outing. It wasn't anything out of the ordinary for Joel. The landscape photographers he most admires all work alone in remote settings, exploring the fringes of the day by headlamp. My fear baffled him. "They were just little streams; the worst that could happen is you'd get a wet foot." He wondered aloud if there's anything I love that scares him. If there's anything I chase the way he chases photos – charging onward to a destination known only to me, unfazed, while he wonders why I would possibly choose to do such a thing. Why I would need to.
Three days later, I am still hearing my response, a steadying echo behind this lake's heartbeat and my own. Writing. I believe in stories like Joel believes in mountains: leaning on them, grateful to have found one thing solid enough to hold me up. It wasn't a surprising answer, nor was it what Joel had meant. He'd been looking for a physical parallel, like the way he delights in scampering steep ridges and I definitively do not. But it was a true answer, and like a bone glinting in a wound, the trueness of it mesmerized me. It has dogged my heels through every pre-dawn hike and hillside scramble in the days since, and now, shuffle-stepping my way across this eleven inch ice on a meditation of art, fear, and love.
Joel and I are both artists. Whether by image or by words, we both have a need to capture and share our experiences of the world around us. But there's a difference between his art and mine, and it's as significant as the difference between eleven inches and one. Joel suggests I sit these missions out. Knowing where his next shoot will take him – knowing how I'll react – he says sleep in, stay in the motel, we'll meet up in a coffee shop after. I shake my head, unwilling to accept kindness I can't return. As a memoirist, I tread across ice far less stable than this. I agree to be vulnerable, risking exposure, judgment, shame, for the relief of an honest, scary sentence – and in doing so, I yank my loved ones onto the ice with me. My art doesn't include an opt-out. That's why I'm still walking. Knowing the privilege of the option to turn back, I force myself to go on.
Dragging my gaze up from my boots, I study my sweetheart. He's a charcoal log in the distance, shooting low, lying on his belly to peer through the viewfinder. He can hold this position for hours. Never complaining about the cold, never losing patience. Fully engaged with his art and himself. Leaving renewed, soul-fed, even if he doesn't end up with a great shot. This is how I want to know my partner, even when I don't understand what he does. Even when it scares me.
He's spent the past few years teaching me how to know him this way. My writing has scared him. He doesn't always understand the places I'm willing to go – the places I feel I have to go. But he's never suggested I not write. He's stood by my art, knowing my decision to expose my life means exposing his.
The sun fizzles without any of the flamboyance Joel had hoped for. He packs away his camera and folds up his tripod, and together we walk back to the shore. We talk about what a beautiful evening it was anyway, and how eager we are for dinner at the brewery next to our motel. My body moves more agreeably, heading towards land.
We've just gotten back to the car when Joel notices a purple edge scalloping the western horizon. "Oh, shit. Is that going to spread?" He stares, waiting to see if the ribbon will unfurl, and glances back to the ice.
"Go." I prod him. "You have to go."
Cursing himself for having left his spot too soon, he tears back down the snowy slope and across the lake. This time I stay on the bank, and I watch with a smile.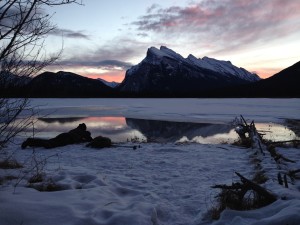 To see some of the shots Joel got from this trip, visit Joel Brady-Power/500px and Joel Brady-Power Photography.