Bio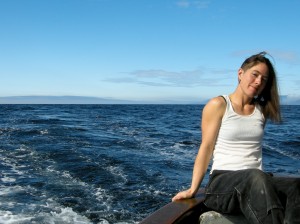 Hello, friend –
My name is Tele (pronounced Tell-ah.) Born in Alaska, I spent a landlocked early childhood at my parents' veterinary clinic, also our home. Sled dogs were frequent visitors, as were spindly-legged moose calves. But my parents had a vision of adventure beyond the Matanuska Valley walls. When they weren't tending to their clients, they were building a 45-foot sailboat in the backyard.
The Askari launched when I was seven, and I became a child of the sea. We set off across the Gulf of Alaska. This was my first introduction to the ocean, the beginning of a unrooted journey. When we landed in Sitka, I was a duckling, indelibly imprinting this stunning island community as my definition of home. It was there that my parents embraced a new adventure: commercial fishing.
Thirty-two years later, I haven't been able to get the salt water out of my veins. I don't try. A lapsed social worker turned professional fish-hunter, I'm a tree hugging, tofu eating, feminist fisherman. My sweetheart, landscape photographer Joel Brady-Power, and I run the 43-foot Nerka, trolling for salmon throughout Southeast Alaska. (Along with Chief Morale Officer, Bear the Boat Cat.) We spend our winters self-marketing our harvest, sharing Nerka Sea Frozen Salmon with restaurants and food co-ops across the country. Divided between Sitka, Alaska, and Bellingham, Washington, ours is a seasonal, migratory life. I wouldn't have it any other way.
I launched my blog in 2011, and am currently revising a memoir, Hooked: A Season of Love, Sex, and Salmon. You can find my work elsewhere – Alaska Dispatch, Alaska Waypoints, Anchored in the Deep, National Fisherman, and Pacific Fishing – and join me in Astoria, Oregon, every last weekend of February for the amazing FisherPoets Gathering. I'm a sucker for funky coffee houses, fun socks, pie and other baked treats. I habitually call people "sweetie," and will stop whatever I'm doing to converse with corvids.
If you'd like to say hello, contact me here, on Facebook, or on Twitter. If you've enjoyed Hooked's posts, please do subscribe to receive future posts by email (and – theoretically – unpredictably sporadic newsletters and infrequent messages of kindness.) You're welcome to chime in on the blog comments. I hope you do. Hooked's friends are a warm, welcoming fleet; we're better and more interesting with each new voice.
Thanks for being here. Be well,
T