Yes­ter­day I received a let­ter from a friend.
Dear Tele, she wrote. Many times I think of you and Joel out on the seas all by your­selves. What a con­trast it must be to come back to land, peo­ple and cities. I won­der if you have caught lots and lots of fish. I won­der if you are still fish­ing, head­ing home, or already home. I have so many wonders.
I, too, have won­dered. I've won­dered how to fill my long silence. Every begin­ning fal­tered, deleted before it could risk notice. How do you pick up a con­ver­sa­tion left hang­ing, from what feels like a life­time ago?
Thanks to my friend's invi­ta­tion, I learn where to begin.
 *****
 Begin with a June after­noon, sunny as our spir­its, when Mount Edge­cumbe appeared on the horizon.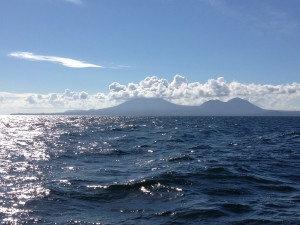 Begin with antic­i­pa­tion, height­ened with every day closer to July first, Open­ing Day. When we finally left town, we exhaled. All guess­work and gam­bling at that point, no way yet of know­ing if we'd cho­sen the right direc­tion, but at least we were unplugged and under­way. Anchored alone in a quiet cove, we sat on the bow and watched a bear snuf­fle the shore, a stone's throw away. We'd shut both engines down that night, one last evening of silence before the trip began. When the bear dis­ap­peared into dense Ton­gass under­brush, we watched her go with our ears, fol­low­ing a trail of snapped branches and shoulder-checked devil's club.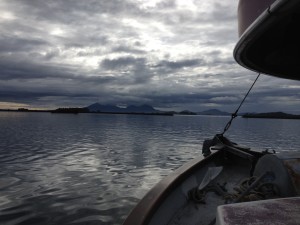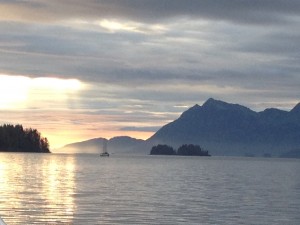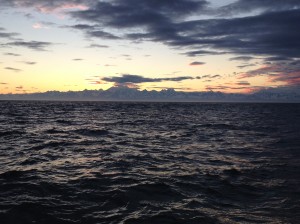 I'll tell you about unprece­dented abun­dance. About an Open­ing Day that sur­passed any­thing we'd dreamed of, king salmon so fero­cious it didn't mat­ter that they'd shred­ded our lures; they gob­bled bare hooks. For the first time in our part­ner­ship, we fan­ta­sized about hav­ing a deck­hand. (Said Joel at the end of Day 2: "If some­one asked me when it feels like to catch this many king salmon, I'd tell them, 'It feels like I'm going to die.'") Best was when we got back to town, learn­ing that the bounty had been coast-wide. A con­ver­sa­tion with a leg­endary high­liner con­firmed that we'd been part of some­thing spe­cial. "Fifty years I've been doing this," he winked, "that was the best fishin' I've ever seen."
Tell about gratitude.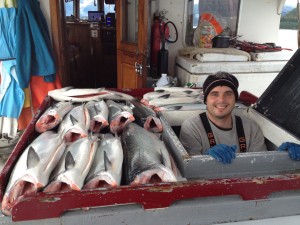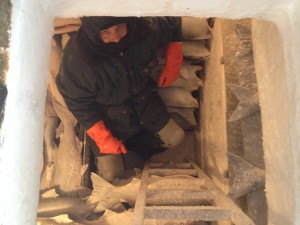 I'll tell you about the good days, like the sunny after­noon on glassy water with a pod of six­teen orcas, where for the next half-hour we aban­doned all pre­tense of fish­ing. One of our part­ners called on the radio to see how we were doing. "Can't talk," Joel mut­tered over his rapid-firing Nikon. "Whale-watching!"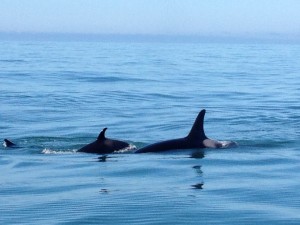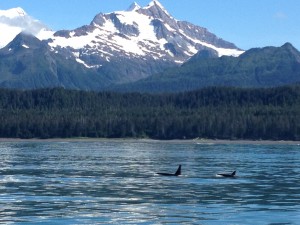 Or when, as we went to put the gear in the water at the start of a new trip, Joel glanced up to see a rare Japan­ese glass float drift­ing down the port side. How the whole sum­mer felt like that: a gift, pre­cious and unforeseen.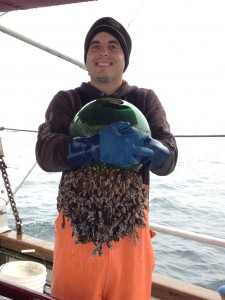 Or how we cel­e­brated our anniver­sary. Up at 3:45, the first boat out of the anchor­age, met with more abun­dance, this time the best coho fish­ing we'd ever seen. We never stopped mov­ing. The sun­set was mod­est, a quiet orb slip­ping into a placid pool. We were loud, shout­ing along with the Chili Pep­pers as we flung fist­fuls of entrails over­board, deliri­ous with dis­be­lief. Lack­ing the energy for an hour's run to the near­est anchor­age, we shut down right where we pulled our gear, man­ag­ing to stay awake long enough to eat straw­berry Haa­gen Daaz for din­ner and soak shell-shocked hands in warm epsom salts. No com­mem­o­ra­tive lovin' this year; we rubbed pain reliev­ing gel onto each other's knot­ted backs instead, falling into our bunk with match­ing groans. Ten years: for us, a sil­ver anniversary.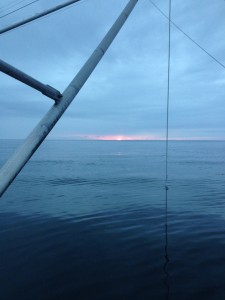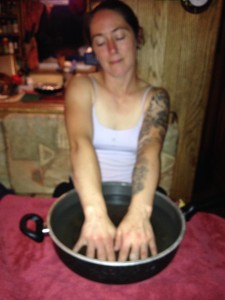 And I'll tell you about the bad days, like when I caught a cold in town and felt like death but the coho were still bit­ing like bull­dogs and that's what sea­sonal work is, you know — "Gotta make hay while the sun shines!" a friend cheer­ily reminds me — and when I glazed 600 fish one after­noon, all foggy head and aching bones, that was just doing what had to be done. And that's how it was a few days later, too, when the South­east­erly came up hard and fast, bul­lets of side­ways rain shoot­ing into any gap in our raingear, and the Nerka heaved and slammed through a world turned gray, and still the coho bit. We called it quits by noon. "Fuck this," Joel said, "Let's go in." I cleaned fish while he drove us into the anchor­age, a two hour run in the trough. He glanced back after the biggest rolls, check­ing that I was still in the cock­pit. When one flung us hard port, my legs buck­led and I scram­bled for a hand-hold. Know­ing Joel couldn't hear me over the waves and wind and engines, a protest burst from my mouth any­way. "I do not like this!"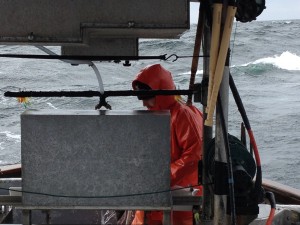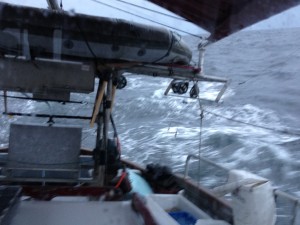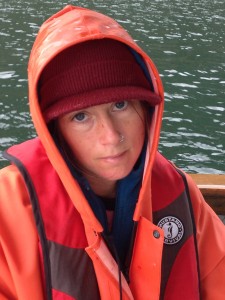 But what I do not like is so soon for­got­ten, lost in the wake of what I love: this ocean hold­ing this boat hold­ing us; the per­son at my side and the salmon in my hands.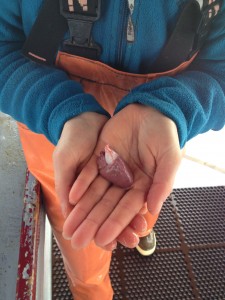 Here I fal­ter, dis­guis­ing a self-conscious pause with a sip of tea. After a knee injury forced Joel to sit out the 2013 sea­son, this was our reunion tour. I want to tell you what it all meant — to Joel, reunit­ing with the moun­tains that have been the back­bone of his life; to me, dis­cov­er­ing new cer­tainty in our part­ner­ship; to us, matched in our deter­mi­na­tion to dig our­selves out of the hole of a year off — but words feel weak. Pulling our hooks aboard for the last time, we wore sim­i­larly tan­gled expres­sions. Baf­fled awe and exhausted pride: our weary bod­ies knew what our minds hadn't yet com­pre­hended. Grief: the end of the sea­son meant leav­ing the place and life we cher­ish, aban­don­ing the iden­ti­ties where we know our­selves best. Excite­ment: being ready for the next thing, be it writ­ing, pho­tog­ra­phy, a good night's sleep.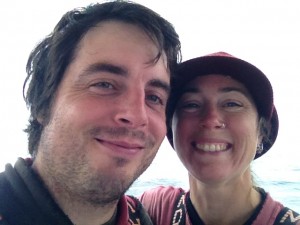 We spent our last night in Sitka cel­e­brat­ing Fisherman's Thanks­giv­ing. Good friends filled the Nerka's deck; good food cov­ered her hatch. The party was wind­ing down when one guest reminded us that we hadn't yet shared what we were thank­ful for. We went around the cir­cle, prais­ing healthy salmon runs, the fleet's safety, easy-to-get-along-with deck­hands. We could have gone on, but one friend said it all in a sin­gle sen­tence. "This sum­mer was the per­fect storm of great­ness and gratitude."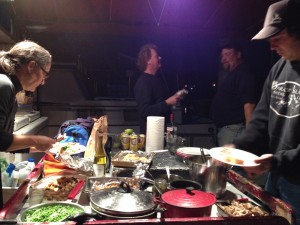 End with a mid-September night, the Nerka's last in Alaskan waters, tak­ing com­fort in the sun­set. The sun's farewell is always a tem­po­rary good­bye. So was ours.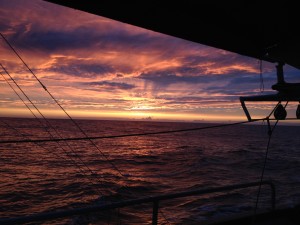 Read More