Since trad­ing boat life for a house, Joel and I have been rev­el­ing in the lux­ury of a full-sized kitchen. Can you guess our favorite ingredient?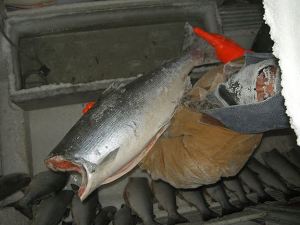 We some­times hear from friends who would like to buy our salmon, but are hes­i­tant to work with a whole fish. ("Whole" mean­ing headed and gut­ted, but not fil­leted or steaked.) Removed as most of us are from our food's ori­gins, deal­ing with any­thing other than plastic-wrapped por­tions can be intim­i­dat­ing. It's also an oppor­tu­nity for deli­cious discoveries.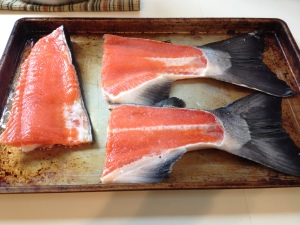 Salmon back­bones are my new obses­sion. Hard to believe that, with decades of catching/cleaning/cooking/ lov­ing salmon, I only recently grasped the ver­sa­tile glory of a scraped coho spine. (Added bonus: refram­ing inner dia­logue from "Oh god, I'm such a ter­ri­ble fillet-er," to "Look at all that meat I left on the back­bone! Lucky me!") I've shared pho­tos on the Nerka's Face­book page of our tasty exper­i­ments with salmon burg­ers, tacos, spring rolls, and banh mi sand­wiches. Last night was Jade Dumplings with green curry sauce, thanks to our endur­ing favorite, Fishes & Dishes.
When a friend requested our banh mi recipe, I decided to post it here. But writ­ing this felt oddly famil­iar. Come to find I shared this a few years ago, when we hadn't yet started using the back­bones. So, options! Read this one if you're using fil­lets (and want to hear sto­ries about Team '77, one of my favorite deck­hand­ing expe­ri­ences). Oth­er­wise, here's our approach to Salmon Banh Mi with pat­ties upcy­cled from back­bone scrapings.
To a mix­ing bowl of salmon scrap­ings, add salt, pep­per; minced gar­lic; finely grated gin­ger; a cou­ple green onions and some lemon­grass, both finely chopped; some lime juice. A cou­ple dol­lops of oys­ter sauce; some sesame oil. An egg – make it two if you're using a full back­bone; mine was only half. A cup or two of panko.
(I can sense the purists twitch­ing. Apolo­gies. Joel's the one who cares about recipe pre­ci­sion. But it's okay – really, this will be deli­cious no mat­ter what. Trust.)
Mix and form small pat­ties. Coat the sides with more panko. They'll want to come apart, so let them firm in the fridge as you warm a cou­ple baguettes and gather your top­pings. Cucum­ber, red onion, jalapeño, cilantro. Car­rot and daikon that you pick­led a day or two ear­lier if you thought this far ahead, a few hours ago if you're like us. (Pick­ling does war­rant more pre­ci­sion. We use Bat­tle of the Banh Mi's recipe.)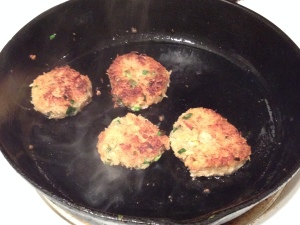 Heat some oil in a cast iron skil­let and fry up your pat­ties. They'll cook quick, just a cou­ple min­utes on either side. Dress the warm baguettes with a mix of may­on­naise and chili gar­lic sauce, then layer with veg­gies. Enjoy!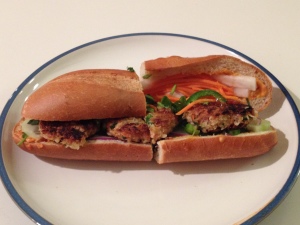 Read More